Our Story
A few years back, we started homebrewing and quickly discovered the challenge, excitement, joy, and pride that comes with making your own beer.
We enjoyed sharing our new found passion with family and friends. As we were kegging our beer, our best option was to purchase growler or flip top bottles. The cost quickly added up, and we faced the challenge of never receiving the growlers or flip top bottles back.
As fans of beer and new homebrewers, we had plenty of standard pry-off beer bottles available. We thought how best can we use these extra bottles to share our homebrew? We looked for a cap that would not only seal a standard pry-off bottle, but more importantly maintain carbonation and prevent spillage. We couldn't find anything on the market to suit our needs.
We invented Clutch Bottle Caps to simplify how you Brew, Cap, and Share your homebrew.
If you bottle condition or keg, homebrewers at any level find value and benefit using Clutch Bottle Caps.
US Patents: 9586729B1, 776533S1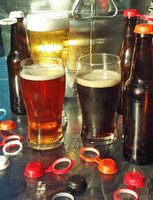 Clutch Bottle Caps Benefits
- Apply and remove by hand
- Easy to clean and sanitize
- Holds internal pressure, tested up to 50 psi
- Eliminates the need for a capper and bottle opener
- Apply to traditional pry-off beer bottles with standard crown size (26 mm)
- Use for bottle conditioning or keg filled bottles
- Reseal bottles to maintain carbonation
- Reusable = Environmentally friendly. Be friendly!
- Designed specifically for the homebrewer
Purchase